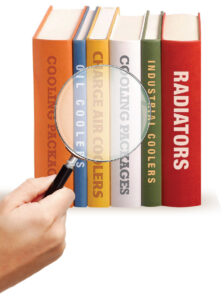 Active Radiator's manufacturing capabilities include supplying cooling components for backordered, discontinued, or obsolete parts across multiple industries.
In addition to manufacturing and one-off production, Active has 12 stocking distribution centers across the U.S. equipped with cleaning and repair service teams giving customers options to keep their equipment running with minimal downtime.
---
MISSION STATEMENT
Active will deliver the highest Quality and Value Products and Services in the manufacture and supply of Industrial, Truck and High-Performance Heat Exchangers.
Build strong relationships with Customers, Suppliers, Employees, and the Community.
Develop a continuous stream of New Products.
Create a progressive and safe work environment for our associates and challenge to Improve on everything that we do.
Achieve a fair profit to sustain growth.
Products:
Active Radiator develops solutions for specialized industries such as:
Agricultural Radiators
Bus Radiators
Generators
Lift Truck Radiators
Loaders & Equipment Radiators
Motorhome Radiators
Truck Radiators
Active Radiator has developed and manufactured cooling packages for several dealer groups. In certain applications such as landfills and incinerators, the design of the O.E. cooling package would cause the fins to clog. Active redesigned the entire cooling package to incorporate a fin design which allows more debris to pass through the core and reduce fin clogging.
---
Capabilities:
Reverse Engineering:
In house mechanical design engineers analyze O.E. units and design replacement units which incorporate product improvements
Obsolete or Discontinued products can be reverse engineered using a sample unit
In House Heat Transfer Design
Fully Equipped machine shop including lathes, bridgeports, Mazak CNC Lathe, and 3 Haas machining centers which allow us to build our own tooling, dies and any part needed for production
Fully Equipped stamping shop including 400-ton press which allows us to stamp any part needed for production runs
Fully Equipped Fabrications shop including 2 laser cutting machines, 2 CNC punch machines and 2 CNC press brakes which allows us to fabricate individual parts needed for custom orders or volume runs of parts needed for production
Active operates 3 Cab Brazing Furnaces which we use to manufacture all of our aluminum products