Terex Radiators – Browse Replacement Parts
The cooling system can be damaged from debris, and we want to help save you downtime. How can you tell if the radiator is repairable or if you need a new one? Major coolant leaks are a common indicator that a new radiator is your best option. Active is here to help! We can help to bridge the gap in the current supply chain issues and get you the parts that you need!
While using your compact construction equipment, you can be confident that should you need repair, we can help you through that! If your Terex radiator is beyond any repair, Active Radiator has the most popular Terex replacement parts in stock across the U.S.
For example, Active's 450280 radiator fits your Terex T35 Mini Excavator
Experience the Active advantage today! We'll help get your equipment back in service quickly with minimal downtime. Find a location near you to buy a Terex radiator replacement or schedule to bring us your leaking radiator to evaluate for repair.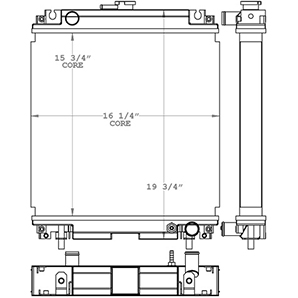 Terex Mini Excavator Radiator
OE NUMBERS
451189ST
31A4705020
31N4701100
5527665351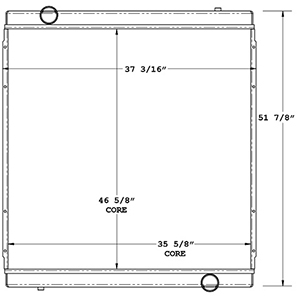 Advance / Terex Cement Mixer
OE NUMBERS
450522AT
34640
3S0118320000
3E0118320000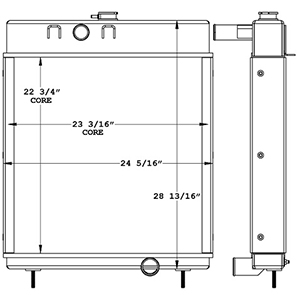 Terex SS1048 Telehandler Radiator
OE NUMBERS
450897AT
11831
731110
7183187GT
View Product Browser With Pictures
---
| Part Number | Height | Width | Depth | Filler Neck | Product | Inlet | Outlet | Oil Cooler |
| --- | --- | --- | --- | --- | --- | --- | --- | --- |
| 450119 | 43 | 20.5 | 4.125 | Top | Radiator | Left | End | None |
| 450120 | 43 | 20.5 | 4.125 | Top | Radiator | Right | End | None |
| 450198 | 18.25 | 13 | 1.25 | Top Center | Radiator | Right | Left | None |
| 450260 | 29 | 21 | 3.6875 | None | Radiator | Bottom Left | Top Right | None |
| 450280 | 20.625 | 21.75 | 1.4375 | None | Radiator | Center | Bottom Right | None |
| 450298 | 18.5 | 20 | 4.125 | Top Left | Radiator | Top Left | Bottom Left | None |
| 450371 | 35.375 | 25.6875 | 5.5 | None | Radiator | Right | Left | None |
| 450476 | 37.25 | 32.625 | 2.375 | Center | Radiator | Right | Right | None |
| 450545 | 37.375 | 28.1875 | 4.5 | None | Radiator | Top Right | Bottom Left | None |
| 450557 | 39.3125 | 22.25 | 3.6875 | Left Top | Radiator | Center Top | Right Bottom | None |
| 450668 | 41.375 | 25.875 | 6.25 | None | Radiator | Top | Bottom | None |
| 450681 | 25.125 | 43.5 | | None | Radiator | | | |
| 450734 | 23.375 | 17.785 | 4.125 | | Radiator | | | |
| 450848 | 29.5 | 22.5 | 4.5 | None | Radiator | | | None |
| 450850 | 41.3125 | 23.8125 | 6.25 | None | Radiator | | | None |
| 450897 | 22.75 | 23.1875 | 3.25 | Center | Radiator | Left Center | Right | None |
| 450957 | 20.75 | 18.4375 | 3.6875 | Center | Radiator | Left | Right | None |
| 451029 | 45 | 28.75 | 5.5 | None | Radiator | | | None |
| 451031 | 35.375 | 25.6875 | 5.5 | None | Radiator | Right | Left | None |
| 451189 | 15.75 | 16.25 | 1.9375 | Center | Radiator | Left | Right | None |
| 451281 | 35.5 | 24.25 | 5.5 | None | Radiator | Right | Left | None |
| 451424 | 18.5 | 20.9375 | 3.875 | Left | Radiator | Left | Left | None |
| 451455 | 50.75 | 23.5 | 5.5 | None | Radiator | | | None |
| 451503 | 19.25 | 20.4375 | 3.875 | None | Radiator | Right | Left | None |
| 451566 | 18 | 18.875 | 3.6875 | None | Radiator | Left | Right | None |
| 451664 | 19.25 | 20.4375 | 3.875 | Right | Radiator | Right | Left | None |
| 451860 | 34.5 | 23.9375 | 5.5 | Center | Radiator | | | None |