Toyota Forklift Radiators – Browse Replacement Parts
Have you noticed that the coolant is lower than normal in your forklift? How can you tell if the radiator is repairable or if you need a new one? Major fluid leaks are a common indicator that a new radiator is your best option. If you're not sure, schedule a servicing appointment with your closest Active Radiator location, and our technicians will evaluate your needs.
If your Toyota forklift radiator is beyond repair, Active Radiator has the most popular forklift models in stock across the US.
Experience the Active advantage today! We'll help you get your forklift back in service quickly and with minimal downtime. Find a location near you to buy a Toyota forklift radiator replacement.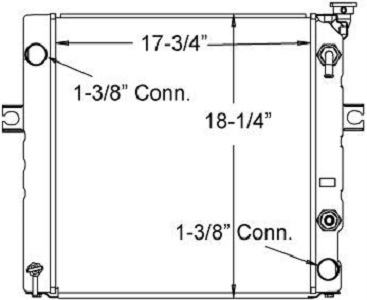 Toyota Lift Truck / Standard Core
OE NUMBERS
16410U220171
16420U128071
16420U128071A
16410U120171
16410U120071
16410U220071
ACN00013
ACM900181
C2010370007
246070
246160
246128
BT1100R7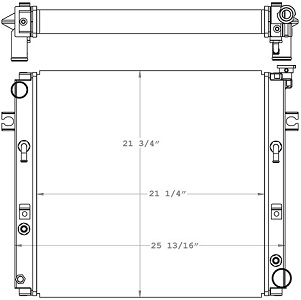 Toyota Lift Truck
OE NUMBERS
410169
16430U334071
ACL800026
C2010500000
16420U334071
16410U334071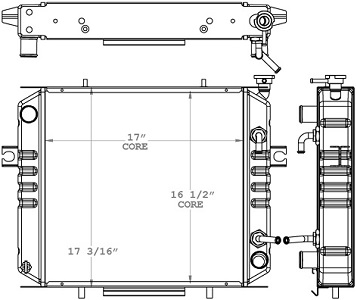 Toyota Forklift Radiator
OE NUMBERS
410226ST
16410113071
16410U113071
16410U113071A
246063
View Product Browser With Pictures
---
| Part Number | Height | Width | Depth | Filler Neck | Product | Inlet | Outlet | Oil Cooler |
| --- | --- | --- | --- | --- | --- | --- | --- | --- |
| 410154 | 21 | 18.75 | 4.1875 | | Radiator | | | |
| 410185 | 19.75 | 17.5 | 2.75 | Right | Radiator | Left | Right | Right |
| 410235 | 19.625 | 19.125 | 2.625 | Right | Radiator | Left | Right | Right |
| 410237 | 19.625 | 19 | 2.5 | Right | Radiator | Left | Right | Right Side of Tank |
| 410233 | 16.875 | 16.75 | 2.375 | Right | Radiator | Left | Right | Right Side of Tank |
| 410234 | 16.875 | 17 | 2.375 | Right | Radiator | Left | Right | Right Side of Tank |
| 410003 | 17.75 | 18.375 | 2.25 | Right | Radiator | LEFT | Right | Right |
| 410004 | 17.75 | 18.375 | 2.25 | Right | Radiator | LEFT | Right | Right |
| 410005 | 19.75 | 17.375 | 2.25 | Right | Radiator | LEFT | Right | Right |
| 410006 | 19.75 | 17.375 | 2.25 | Right | Radiator | LEFT | Right | Right |
| 410008 | 20.75 | 17.375 | 2.25 | Right | Radiator | Left | Right | Right |
| 410009 | 20.75 | 18.375 | 2.25 | Right | Radiator | Left | Right | Right |
| 410080 | 17.75 | 18.375 | 2.25 | Right | Radiator | Left | Right | Right |
| 410149 | 19.75 | 17 | 2.25 | Right | Radiator | Left | Right | Right |
| 410168 | 21.75 | 21.125 | 2.25 | Right | Radiator | Left | Right | Right |
| 410169 | 21.75 | 21.125 | 2.25 | Right | Radiator | Left | Right | Right |
| 410182 | 17.25 | 17.25 | 2.25 | Right | Radiator | Left | Right | Right |
| 410183 | 17.25 | 17.25 | 2.25 | Right | Radiator | Left | Right | Right |
| 410203 | 19.75 | 17.5 | 2.25 | Right | Radiator | Left | Right | None |
| 410226 | 17 | 16.5 | 2.25 | Right | Radiator | Left | Right | Right |
| 410227 | 19.75 | 18.9375 | 2.25 | Right | Radiator | Left | Right | Right |
| 410228 | 17 | 16.5 | 2.25 | Right | Radiator | Left | Right | Right |
| 410229 | 19.75 | 16.5 | 2.25 | Right | Radiator | Left | Right | Right |
| 410240 | 23.625 | 21.25 | 2.25 | Right | Radiator | Left | Right | Right |
| 410245 | 19.75 | 16.5625 | 2.25 | Right | Radiator | Left | Right | Right |
| 410248 | 23.6875 | 18.25 | 2.25 | Right | Radiator | Left | Right | Left |
| 410249 | 23.6875 | 18.25 | 2.25 | Right | Radiator | Left | Right | Left |
| 410150 | 19.75 | 17 | 2.125 | Right | Radiator | Left | Right | Right |
| 410204 | 19.75 | 17.5 | 2.125 | Right | Radiator | Left | Right | None |
| 410247 | 17.75 | 17.625 | 1.875 | Left | Radiator | Right | Left | Left |
| 410129 | | | | | Radiator | | | |