Caterpillar Radiators – Browse Replacement Parts
Is your engine overheating? The radiator could be the cause. How can you tell if the radiator is repairable or if you need a new one? Major fluid leaks are a common indicator that a new radiator is your best option. Active is here to help! We can help to provide parts for both your new and older models of Caterpillar.
While using either your light or heavy construction equipment whether it be generators or otherwise, you can be confident that should you need repair, we can help you through that! If your Caterpillar radiator is beyond any repair, Active Radiator has the most popular Caterpillar replacement parts in stock across the U.S. For example, we have the 450560 radiator for your 336E Excavator backhoe trackhoe cooling unit , and we also have the associated oil cooler and charge air cooler so we can meet all your needs!
Caterpillar Radiators
Caterpillar radiators allow heavy-duty vehicles to run in harsh environmental conditions and long-term service. They are specifically designed to protect Caterpillar engines from overheating and other damages caused by the continual motion of air through engine components. Caterpillar radiators provide supreme performance efficiency, outstanding heat transfer capabilities, and superior durability. This ensures that Caterpillar engine parts remain safe, even when powering over long distances or in intense weather conditions. Caterpillar radiators are ideal for a wide range of construction equipment and on-highway trucks that require reliable operation and long lifespan.
Caterpillar Equipment Radiators are specifically designed to provide superior cooling performance for Caterpillar Heavy Equipment. The top-of-the-line engineering and construction ensures every Caterpillar Equipment Radiator meets Caterpillar's stringent specifications and provides powerful, reliable cooling results in the toughest conditions. Caterpillar Radiators are designed and manufactured with the highest quality materials, innovative design, and state-of-the art manufacturing processes.
With their advanced technology and rigorous testing, Caterpillar Radiators provide unbeatable reliability and durability that customers have come to expect from Caterpillar heavy equipment parts. Caterpillar radiators are built with premium materials to achieve best-in-class corrosion resistance as well as a long service life in any operating condition. Whether you're looking to replace an existing part or purchase a new radiator for your Caterpillar equipment, it's worth investing in the highest quality for maximum equipment performance.
Active Radiator offers a wide variety of Caterpillar radiators and parts for Caterpillar engines so you can gain peace of mind in your business and projects. Protect your investments and install high quality Caterpillar aftermarket parts today!
Caterpillar Equipment Radiators
Caterpillar equipment radiators are reliable, durable and cost-effective solutions for a wide range of Caterpillar industrial equipment. Our selection of Caterpillar aftermarket equipment radiators utilize All-Metal Single Core Design and are designed with superior materials to provide peak performance in Caterpillar machines that operate in harsh environments.
Caterpillar equipment radiators can withstand extreme temperatures, as well as corrosion, customer abuse and other external physical impacts to ensure they keep running with little or no maintenance. Additional features like built-in pressure relief valves, variable mounting flanges and double sided core fins guarantee Caterpillar equipment radiators are the best choice for reliable cooling systems inside Caterpillar industrial machines.
Experience the Active advantage today! We'll help get your equipment back in service quickly with minimal downtime.  Find a location near you to buy a Bobcat radiator replacement.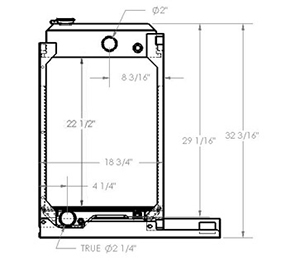 Caterpillar Equipment Radiator
OE NUMBERS
450128ST
11589
GEN105
MN42213287003
MN42200048810P
2486F103
3694471
4321410
2368741
2367766
245960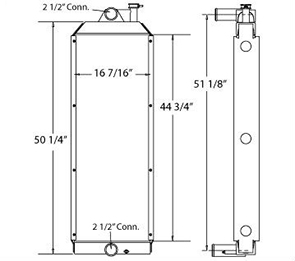 CAT 345 Excavator Radiator
OE NUMBERS
BT2302966
2108161
2108164
2302966
3836407
3836408
117539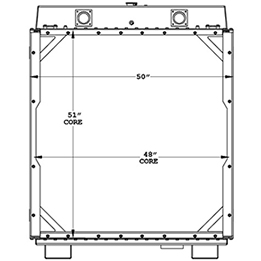 Caterpillar 3412 Genset Radiator
OE NUMBERS
450702BT
8N4885
7E4255
7E4264
SCSI7981
SCSI7981SC
4N8995
10R0745
5737675
View Product Browser With Pictures
---
| Part Number | Height | Width | Depth | Filler Neck | Product | Inlet | Outlet | Oil Cooler |
| --- | --- | --- | --- | --- | --- | --- | --- | --- |
| 450010 | 40.75 | 5 | 4.25 | | Radiator | | | |
| 450018 | 34.5625 | 29.875 | 3 | Top | Radiator | Right | Right | None |
| 450031 | 34.5625 | 29.5 | 2.25 | Top | Radiator | Right | Left | None |
| 450037 | 37.3125 | 29.875 | 3 | Top | Radiator | Right | Right | None |
| 450039 | 19.5 | 18.3125 | 2 | Top | Radiator | Right | Left | None |
| 450042 | 22.375 | 25 | 2.25 | Top | Radiator | Left | Right | None |
| 450045 | 24.875 | 22.5 | 4.1875 | None | Radiator | Right | Right | None |
| 450099 | 32.5625 | 29.5 | 2.25 | Top | Radiator | Right | Left | None |
| 450101 | 22 | 22 | 2.25 | Top | Radiator | Left | Left | None |
| 450112 | 31.5 | 17.6875 | 3.875 | Top | Radiator | Center | Left | None |
| 450122 | 21.625 | 21.5 | 3.5 | Top | Radiator | Left | Right | 15.375 |
| 450126 | 24.75 | 25 | 2.25 | Top | Radiator | Left | Right | None |
| 450128 | 22.5 | 17.6875 | 3.875 | Top | Radiator | Center | Left | None |
| 450134 | 32.75 | 17.6875 | 2.25 | Top | Radiator | Left | Right | None |
| 450135 | 22.5 | 22 | 3.875 | Top | Radiator | Left | Right | None |
| 450147 | 32.75 | 17.6875 | 2.25 | Top | Radiator | Left | Right | None |
| 450149 | 27.5625 | 29.5 | 2.25 | Top | Radiator | Left | Right | None |
| 450150 | 31.875 | 29.5 | 2.25 | Top | Radiator | Right | Left | None |
| 450153 | 27.5625 | 29.5 | 2.25 | Top | Radiator | Right | Left | None |
| 450154 | 31.5 | 28.9375 | 3.875 | None | Radiator | Left | Left | None |
| 450166 | 34.5625 | 29.5 | 2.25 | Top | Radiator | Left | Right | None |
| 450266 | 17.1875 | 19.9375 | 2.75 | Top Center | Radiator | Top Left | Bottom Left | None |
| 450290 | 44.5 | 17.375 | 4 | Top Right | Radiator | Top Center | Bottom Center | None |
| 450293 | 22 | 22.25 | 3.0625 | Top Left | Radiator | Top Offset Left | Bottom LEft | None |
| 450309 | 40.625 | 14.9375 | 4.125 | Top Right | Radiator | Top Left | Bottom Right | None |
| 450348 | 32.5625 | 32.25 | 2.25 | Top Center | Radiator | Top Left | Top Right | None |
| 450366 | 36.625 | 15 | 4.125 | Right | Radiator | Left | Right | None |
| 450415 | 27.5 | 24.5 | 2.25 | Top Center | Radiator | Left | Right | NA |
| 450438 | 26.375 | 25.75 | 4.125 | Top Right | Radiator | Left | Right | NA |
| 450442 | 30.25 | 28.625 | 3.25 | Top Left | Radiator | Right | Right | Bottom |
| 450466 | 34.5 | 23.5 | 4.5 | Top Left | Radiator | Left | Left Bottom | NA |
| 450471 | 22.5 | 21.875 | 4.125 | Top Left | Radiator | Left of Center | Left | |
| 450489 | 19.75 | 15.875 | 1.5 | Center | Radiator | Right | Right | None |
| 450492 | 19.75 | 17.25 | 1.25 | Center | Radiator | Left | Right | None |
| 450503 | 17.75 | 18.3125 | 1.9375 | Center | Radiator | Right | Left | None |
| 450521 | 31.5 | 29.5625 | 3.25 | Top Center | Radiator | Left | Right | None |
| 450560 | 47.25 | 19.3125 | 5.75 | None | Radiator | Center Top | Center Bottom | None |
| 450583 | 41.375 | 33 | 2.8125 | Center | Radiator | Right | Right | None |
| 450601 | 37.5 | 17.75 | 2.25 | Top Right | Radiator | Left | Right | None |
| 450613 | 20.5 | 24.375 | 3.25 | Center Top | Radiator | Right Top | Left Bottom | None |
| 450614 | 34.625 | 31.5625 | 5 | None | Radiator | Left | Right | None |
| 450638 | 37.5 | 11.375 | 6.25 | None | Radiator | Left | Right | None |
| 450645 | 33.375 | 23.3125 | 4.125 | Top Right | Radiator | Right | Center | None |
| 450656 | 41.125 | 14.5 | 5.5 | None | Radiator | Right | Right | None |
| 450734 | 23.375 | 17.785 | 4.125 | | Radiator | | | |
| 450741 | 19.875 | 11.514 | 3.25 | | Radiator | | | |
| 450771 | 47.5 | 40.75 | 1.9375 | None | Radiator | | | None |
| 450780 | 31.63 | 22.83 | 5 | | Radiator | | | |
| 450781 | 41.75 | 7.06 | 5.38 | | Radiator | | | |
| 450782 | 44.81 | 7.06 | 5.38 | | Radiator | | | |