Western Star Heavy Duty Truck & Bus Parts
Aftermarket Western Star Truck Parts
At Active Radiator, we are proud to offer a comprehensive range of premium aftermarket parts for Western Star Heavy Duty Trucks & Buses. Our commitment to excellence and customer satisfaction makes us a trusted source for Radiators (HDC), Charge Air Coolers (HDC), and Condensers (HDC) that cater specifically to the needs of Western Star vehicles. Stay on the road with less downtime by shopping our large selection of aftermarket Western Star parts.
Why Trust Active Radiator for Your Aftermarket Western Star Parts?
Uncompromising Quality: Our aftermarket parts are built with the highest quality materials and manufacturing processes, ensuring durability, reliability, and long-lasting performance.
Precise Fitment: Active Radiator's aftermarket Western Star parts are designed to seamlessly fit your vehicles, making installation hassle-free and ensuring optimal compatibility with your cooling systems.
Enhanced Performance: Our Radiators (HDC), Charge Air Coolers (HDC), and Condensers (HDC) are engineered to deliver exceptional cooling capabilities, preventing overheating and maximizing your Western Star truck or bus's overall performance.
Rigorous Testing: All our aftermarket parts undergo rigorous testing to meet industry standards, guaranteeing that they can withstand the demanding conditions of heavy-duty applications.
Expert Support: Our team of knowledgeable professionals is dedicated to providing expert support and guidance, ensuring you find the right parts to suit your Western Star vehicles' specific requirements.
Active Radiator's Product Offerings
Radiators (HDC): Active Radiator's Heavy Duty Radiators are tailored to meet the demands of Western Star trucks and buses, efficiently regulating engine temperatures and safeguarding your vehicle's performance.
Charge Air Coolers (HDC): Our Heavy Duty Charge Air Coolers effectively cool the compressed air from the turbocharger, optimizing engine efficiency and power for your Western Star vehicles.
Condensers (HDC): Designed for superior cooling performance, our Heavy Duty Condensers ensure a comfortable and pleasant cabin environment for drivers and passengers of Western Star trucks.
Reliable High-Performance Parts
When you need reliable, high-performance aftermarket parts for Western Star heavy duty trucks, trust Active Radiator to supply them for you. Experience the difference our premium Radiators (HDC), Charge Air Coolers (HDC), and Condensers (HDC) can make in convenience and value. Invest wisely in the performance and longevity of your fleet while taking advantage of our smooth and easy ordering process. Our in house manufacturing capabilities mean that we stay stocked on popular models of aftermarket parts for your Western Star vehicles. If we don't have it in stock, we can customize parts for you. Partner with us today and keep your Western Star vehicles operating at their peak!
Contact Active Radiator Today!
If you still have questions about getting your aftermarket Western Star Truck parts, contact our experts at the location nearest you. We are happy to help make sure you get the right parts for optimal performance to get you back on the road quickly and at a great price. If you don't see the part you need, let us help you find it. We can customize and manufacture the parts you need with high-quality materials and an outstanding fit. Order online or call to get started.
Hard-To-Find Older Western Star Replacement Parts
Whether you are buying aftermarket Western Star truck parts for your heavy-duty truck, or need hard-to-find older model replacement parts, Active Radiator has you covered. We carry an impressive selection of newer and older model truck parts including radiators, oil coolers, charge oil coolers, and even bus isolator kits. Contact our team of experts today to order your parts. Need help finding the right part? No problem, give us a call and we can make sure you get the exact truck part you need. Already know what you need? Feel free to order Western Star parts online!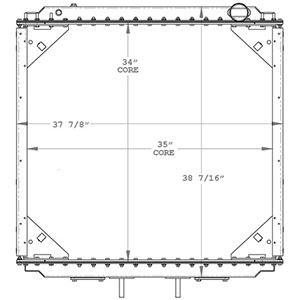 PART NUMBERS
800013
800013AT
800013PT
800013ST
8013
S8013
WES13
558013
558013A
639RA013
RA013
RWS13PT
SCSI239293
SC239293
239293
TR9293
238672
TR8672
SCSI238672
SC238672
SPI20014701
20014701
ABPN2020014701
SRM9460
WS1800B0023
DHTWS1800B0023
437436
437436P
437436S
WS01
WS01R4
BTC7500
BT7500
CGJ7500
7500
FLX001502
AFA001502
8200
CTVTM82003
CTVTM82004
CTVTU82003
CTVTU82004
HDC010080
HDC010080PA
HDC010080SK
HDC010650
2400115
215001
HD215001
LT1037
1037
A0521110000
A0521110001
A0521110002
A0521110003
A0521110004
A0521110005
A0521110006
A0521110007
A0521110008
A0521110009
A0521110012
A0521110013
A0521110014
A0521110015
A0521110016
A0521110017
A0521110018
A0521110020
A0521110021
A0522591000
A0522591001
A0522591002
A0522591003
A0522591004
A0522591005
A0522591006
A0522952000
A0522952001
A0522592002
A0522592003
A0522592004
A0522592005
A0522592006
MOD1A19169
1A19169
MOD1A19170
1A19170
MOD1A19171
1A19171
MOD1A19172
1A19172
MOD1A19173
1A19173
MOD1A19174
1A19174
MOD1A19175
1A19175
MOD1A19176
1A19176
MOD1A19177
1A19177
MOD1A19178
1A19178
MOD1A19179
1A19179
MOD1A19180
1A19180
MOD1A19181
1A19181
MOD1A19182
1A19182
MOD1A19183
1A19183
MOD1A19184
1A19184
MOD1A19185
1A19185
MOD1A19186
1A19186
MOD1A19187
1A19187
MOD1A19188
1A19188
MOD1A19193
1A19193
MOD1A19233
1A19233
MOD1A19233G
1A19233G
MOD1A19376
1A19376
MOD1A19377
1A19377
MOD1A19378
1A19378
MOD1A19379
1A19379
MOD1A19380
1A19380
MOD1A19381
1A19381
MOD1A19382
1A19382
MOD1A19384
1A19384
MOD1A19385
1A19385
MOD1A19386
1A19386
MOD1A19387
1A19387
MOD1A19388
1A19388
MOD1A19389
1A19389
MOD1A19390
1A19390
MOD3A49913
3A49913
MOD3S49913
3S49913
MOD3A49914C
3A49914C
MOD3A49914
3A49914
MOD3S49914
3S49914
MOD3S10787
3S10787
MOD3E10787
3E10787
WWS200013529
200013529
WWS200013531
200013531
WWS200013536
200013536
WWS200013537
200013537
WWS200013538
200013538
WWS200013540
200013540
WWS200013541
200013541
WWS200013542
200013542
WWS200013546
200013546
WWS200013549
200013549
WWS200013550
200013550
WWS200013553
200013553
WWS200013554
200013554
800084
800084BT
558084
639RA084
RA084
WS03
WES2137
238600
SC238600
SCSI238600
TR8600
FLX001509
FLX1509
TB2137
WES2137
MOD1A15463
1A15463
MOD1A15854G
1A15854G
MOD3A38190D
3A38190D
MOD3E38190D
3E38190D
MOD3S38190D
3S38190D
MOD1S0158540000
1S0158540000
MOD1A0158540000
1A0158540000
MOD1E0158540000
1E0158540000
WWS2300013479
200013479
WWS200013480
200013480
WWS200013480SS
200013480SS
WWS200024425
200024425
3S0445920003
MOD3S0445920003
800124
800124PT
0526875003
3A0580130003
3S0580730003
3S80733
WES27
LT9322
238767
639RA9322
0526875001
3E11411
3E114910000
WES20
A0526875001
LT9182
238658
639RA9182
437438P
437438
HDC010949
HDC010949PA
HDC010843
HDC010843PA
Browse Western Star Radiators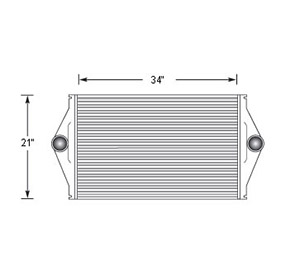 PART NUMBERS
WES18201
WES18201ED
WES18201N
WES18201R
1140
BTC1140
BT1140
CAC140
WSR1140
222121
CA2121
SC222121
SCSI222121
441197
WSDAC35A
DHTWS35A
DURWSDAC35A
WS35A
DHT35A
374135A
44WS35A
SRMWS35A
FLX011501
17V9784
HDH010312
PC2934
ZGCC043
3B1011
1E3153
1E3406
1E3523
1E3909D
MOD1E3909D
MOD183903B
22273404
22273406
222273404
222273406
WES18203
WES18203N
WES18203R
BTC1142
BT1142
1142
639CA142
CAC142
WSR1142
WS3411
222122
SC222122
SCSI222122
CA2122
17V9785
22701
SPI44014701
44014701
441199
WSDAC35C
DURWSDAC35C
DHTWS35C
DHT35C
374135C
WS35C
WS35CMAX
FLX011502
HDH010231
HDH010231BP
SRMWS35C
SRMWS35CBP
44WS35C
REA611031
RHT041
CACWE101
MC0048
1E3903
1E3903D
1E3914
1S3903
1S0039030000
222273409
222273411
WES18202
WES18202N
WES18202R
BTC1141
BT1141
1141
CAC141
WSR1141
222120
SCSI222120
SC222120
CA2120
441198
WSDAC35B
DURWSDAC35B
DHTWS35B
DHT35B
WS35B
CBWS35B
SRMWS35B
44WS35B
SPI44011702
44014702
FLX011505
HDH010230
HDH010230BP
PC2935
17V9810
1E3204
1E3284
1E3523
1E3992
222273405
22273405
222273407
222273413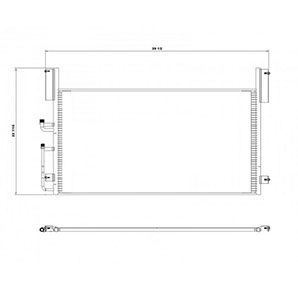 PART NUMBERS
CON0077
CON0078
CON0094
Browse Western Star Condensers
View Product Browser With Pictures
---
| Part Number | Height | Width | Depth | Filler Neck | Product | Inlet | Outlet | Oil Cooler |
| --- | --- | --- | --- | --- | --- | --- | --- | --- |
| 271138 | 10.75 | 9.9375 | 3 | None | Oil Cooler | | | |
| 800013 | 38 | 34.375 | 2.25 | None | Radiator | Top Left | Right | None |
| 800080 | 38.875 | 42.3125 | 2.25 | None | Radiator | Right | Right | None |
| 800083 | 40.125 | 42.3125 | 2 | None | Radiator | Right | Left | Bottom |
| 800084 | 33.75 | 35.125 | 3.0625 | None | Radiator | Top Right | Bottom Left or Right | None |
| 800086 | 33.875 | 39.5 | 2.25 | None | Radiator | Top Right | Bottom Left | None |
| 800090 | 43.9375 | 39.5 | 2.25 | None | Radiator | Top Right | Bottom Right | None |
| 800092 | 30.875 | 39.5 | 2.25 | None | Radiator | Top Right | Bottom | None |
| 800094 | 36.875 | 39.5 | 2.25 | None | Radiator | Top Right | Right or Left | None |
| 800096 | 32.75 | 42.3125 | 2.25 | None | Radiator | Top Right | Bottom Right | Bottom |
| 800101 | 40.125 | 42.3125 | 2 | None | Radiator | Right | Right | Bottom |
| 800101PTWF | 40.125 | 42.3125 | 2 | None | Radiator | Right | Right | Bottom |
| 800113 | 47.3125 | 39.5 | 2.25 | None | Radiator | Top Right | Right or Left | None |
| 800118 | 37.5 | 41.75 | 2.25 | None | Radiator | Top Right | Bottom Left | Bottom |
| 800119 | 37.5 | 41.75 | 2.25 | None | Radiator | Top Right | Bottom Right | Bottom |
| 800120 | 42 | 41.625 | 2.25 | None | Radiator | Top Right | Bottom Left | None |
| 800121 | 42 | 41.625 | 2.25 | None | Radiator | Top Right | Bottom Left | Bottom |
| 800122 | 42 | 41.625 | 2.25 | None | Radiator | Top Right | Bottom Right | Bottom |
| 800123 | 38.875 | 41.625 | 2.25 | None | Radiator | Top Right | Bottom Right | Bottom |
| 800124 | 38.875 | 41.625 | 1.25 | None | Radiator | Top Right | Bottom Left | Bottom |
| CON0077 | 35.625 | 18 | | None | Condenser | | | None |
| CON0078 | 39.375 | 15 | 0.875 | None | Condenser | | | None |
| CON0094 | 33.875 | 18.375 | 0.625 | None | Condenser | | | |
| FRT18149 | 36.5 | 26.5 | 2 | None | Charge Air Cooler | | | None |
| WES18201 | 34 | 21 | 2.8125 | None | Charge Air Cooler | Left | Right | None |
| WES18202 | 34 | 21 | 2.8125 | None | Charge Air Cooler | Left | Right | None |
| WES18203 | 35.5 | 24.25 | 1.9375 | None | Charge Air Cooler | Left | Right | None |
| WES18204 | 37.75 | 29.125 | 2 | None | Charge Air Cooler | Left | Right | None |
| WES18205 | 39 | 24 | 2.5 | None | Charge Air Cooler | Left | Right | None |