Bobcat Off-Road Industrial Equipment Parts
Bobcat Radiators & Oil Coolers
Active Radiator manufactures a wide range of off-road industrial equipment parts for everything from Bobcat compact track loaders to excavators. Bobcat is a well-known name in the construction and agricultural industries. Bobcat equipment is known for its durability and performance, but like any machine, it will eventually need parts replaced. When it comes time to repair or replace bobcat parts, many owners turn to Active's aftermarket parts.
Active's aftermarket parts are manufactured and designed to fit Bobcat machines. Our aftermarket parts can be a cost-effective way to keep your Bobcat running like new. When choosing aftermarket parts for Bobcats, it's important to find a reputable supplier that offers high-quality parts. Active Radiator aftermarket parts can be an excellent and affordable way to keep your machine running smoothly for years to come.
Experience the Active advantage today! We'll help get your equipment back in service quickly with minimal downtime. Find a location near you to buy a Bobcat industrial equipment part replacement or schedule to bring us your Bobcat part to evaluate for repair.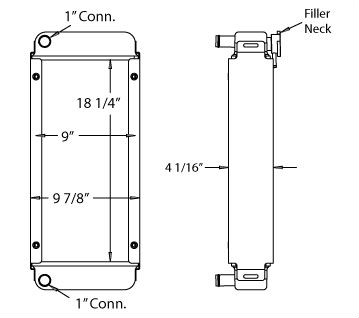 PART NUMBERS
450023
450024
450026
450061
450186
450223
450350
450436
450813
450836
450904
451256
451269
451319
451395
Browse Bobcat Radiators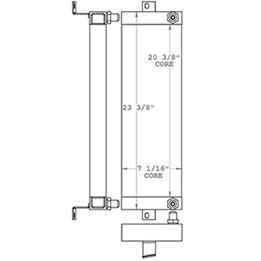 PART NUMBERS
270621
270806
271136
271146
271151
271154
271168
271184
271188
271206
271267
271278
271311
271325
271359
271450
Browse Bobcat Oil Coolers
Bobcat Skid Steer Parts
Active Radiator also manufactures off-road industrial equipment parts that are designed for Bobcat skid steer loaders. These parts and accessories increase the performance and productivity of your machine. Common Bobcat skid steer parts include oil coolers and radiators. The oil cooler keeps the engine oil cool while the radiator dissipates heat from the engine coolant. The fan helps circulate air through the engine bay and helps keep the engine coolant from overheating. By installing updated or cleaned parts, you will improve the overall performance of your machine.
Bobcat Radiators
Active's aftermarket Bobcat radiators offer cooling solutions for Bobcat utility vehicles, construction equipment, and other machines. Our radiators are designed to dissipate heat, providing protection against engine overheating. Bobcat radiators include features such as a louvered core design and exhaust elbows, promoting improved core air circulation and making it easier to start engines at lower temperatures.
Made of high-quality materials that can withstand extreme temperature changes, our radiators feature design elements that protect them from damage including debris or rocks that may be kicked up during operation. When you need to keep your Bobcat operating smoothly in any environment, trust Active Radiator's selection of high-quality aftermarket radiators!
Trust Active For Aftermarket Bobcat Parts & Accessories
If your Bobcat is ready for an upgrade or update, let Active Radiator supply you with the aftermarket Bobcat parts you need to keep your machine running all year round. Active has got you covered no matter how tough the job ahead is. Shop our aftermarket parts made specifically for Bobcat machines and feel free to reach out to our team with any questions!
View Product Browser With Pictures
---
| Part Number | Height | Width | Depth | Filler Neck | Product | Inlet | Outlet | Oil Cooler |
| --- | --- | --- | --- | --- | --- | --- | --- | --- |
| 270621 | 29.5 | 11 | 1.9375 | None | Oil Cooler | Top Left | Top Right | None |
| 270806 | 19.25 | 19.875 | 1.9375 | None | Oil Cooler | TOP LEFT | TOP RIGHT | None |
| 271136 | 22.125 | 9.9375 | 1.9375 | None | Oil Cooler | | | |
| 271146 | 20.375 | 8.5625 | 1.9375 | None | Oil Cooler | | | |
| 271151 | 20.375 | 7.0625 | 1.9375 | None | Oil Cooler | | | |
| 271154 | 20.5 | 6.5625 | 1.9375 | None | Oil Cooler | | | |
| 271168 | 22.25 | 9.9375 | 1.9375 | None | Oil Cooler | | | |
| 271184 | 22.75 | 9.9375 | 1.9375 | None | Oil Cooler | | | |
| 271188 | 15.5 | 21.8125 | 1.9375 | None | Oil Cooler | | | |
| 271206 | 14 | 14.9375 | 1.5 | None | Oil Cooler | | | |
| 271267 | 19.875 | 15.75 | 1.875 | None | Oil Cooler | | | |
| 271278 | 22.5 | 15.9375 | 1.9375 | None | Oil Cooler | | | |
| 271311 | 18.75 | 19.875 | 1.9375 | None | Oil Cooler | | | |
| 271325 | 15.625 | 7.5625 | 1.5 | None | Oil Cooler | | | |
| 271359 | 22.125 | 9.9375 | 1.9375 | None | Oil Cooler | | | |
| 271450 | 22.1875 | 15.8125 | 1.9375 | None | Oil Cooler | | | |
| 271578 | 18.5625 | 6.125 | 1.5 | None | Oil Cooler | | | |
| 290091 | 22 | 24.8125 | 3.5 | Top | Combo Unit | Left | Left | Right |
| 450023 | 18.25 | 9 | 2.8125 | Top | Radiator | Left | Left | None |
| 450024 | 24.5 | 11 | 2.8125 | Top | Radiator | Left | Left | None |
| 450026 | 26.125 | 11.5 | 2.8125 | Top | Radiator | Left | Left | None |
| 450061 | 27.5 | 15.9375 | 2.25 | None | Radiator | End | End | None |
| 450186 | 21.5 | 21 | 4.1875 | None | Radiator | Right | Left | None |
| 450223 | 17.625 | 20.5 | 2.125 | Top center | Radiator | Top Left | Bottom Left | None |
| 450350 | 17.75 | 20.5625 | 2.8125 | None | Radiator | | | None |
| 450436 | 17.625 | 17.875 | 1.5 | Center Top | Radiator | Left | Left | NA |
| 450813 | 13.75 | 18.25 | 2.25 | | Radiator | LEFT | RIGHT | |
| 450836 | 26.5 | 13.125 | 2.75 | None | Radiator | Left | Right | None |
| 450904 | 19.8125 | 19.375 | 2.8125 | None | Radiator | | | None |
| 451256 | 20.125 | 11.9375 | 3.25 | Rear | Radiator | | | None |
| 451269 | 20.5 | 20.5625 | 2.8125 | None | Radiator | 45 degree | Offset Center | None |
| 451319 | 21.5 | 18.25 | 2.125 | Right | Radiator | Left | Center | None |
| 451395 | 18.875 | 21.375 | 2.25 | None | Radiator | | | None |
| 451653 | 20.5 | 20.5 | 4.125 | None | Radiator | | | None |
| 451781 | 23 | 9.25 | 2.5 | Rear | Radiator | | | None |