Case Radiators – Browse Replacement Parts
Have you had issues with your radiator lately? How can you tell if the radiator is repairable or if you need a new one? Major coolant leaks are a common indicator that a new radiator is your best option. Active is here to help! We can help to provide parts for both your new and older models of Case equipment.
Sometimes a repair is not possible and the headaches in todays market where many Case models have lengthy backorder delays make for unnecessary stress in daily business operations. See how Active can help! We carry the most popular Case replacement parts in stock at our facilities across the US.
If we don't have it, we can build it! For example, we have the Case CS50B Mini Crawler radiator, Active's part number 451028. We also manufacture radiators for wheeler loaders, skid steer loaders and scissor lifts regardless of the equipment age.
Experience the Active advantage today! We'll help get your equipment back in service quickly with minimal downtime. Find a location near you to buy a Case radiator replacement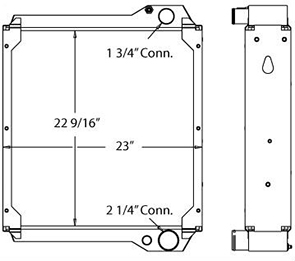 Case / Volvo CE Radiator
OE NUMBERS
450096ST
MN42200041012N
MN42200041212N
MN42213286703C
87410096
87410098
87416657
MN22200019912N
87544110
53595
87576643
87310155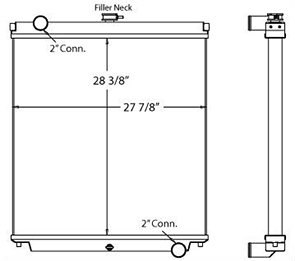 Case CX135SR Radiator
OE NUMBERS
LN00056
LN00057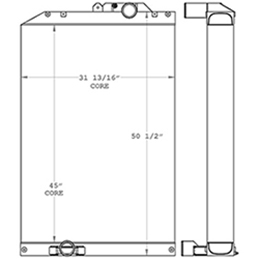 Case 400 – 600 QuadTrac Tractor Radiator
OE NUMBERS
450934AT
84286669
47923459
211135
View Product Browser With Pictures
---
| Part Number | Height | Width | Depth | Filler Neck | Product | Inlet | Outlet | Oil Cooler |
| --- | --- | --- | --- | --- | --- | --- | --- | --- |
| 430025 | 19.3125 | 20.1875 | 2.125 | Center | Radiator | Right | Right | None |
| 430068 | 17.8125 | 17.375 | 2.6875 | Right | Radiator | Left | Left | None |
| 450017 | 34.5625 | 29.5 | 2.25 | Top | Radiator | Right | Right | None |
| 450037 | 37.3125 | 29.875 | 3 | Top | Radiator | Right | Right | None |
| 450044 | 24.875 | 22.5 | 4.1875 | Top | Radiator | Right | Left | None |
| 450045 | 24.875 | 22.5 | 4.1875 | None | Radiator | Right | Right | None |
| 450046 | 19.875 | 25 | 4.1875 | None | Radiator | Right | Right | None |
| 450047 | 18.6875 | 20 | 4.1875 | Top | Radiator | Right | Right | None |
| 450059 | 21.625 | 20.875 | 2.25 | Top | Radiator | Left | Right | None |
| 450060 | 17.625 | 17.6875 | 1.4375 | Top | Radiator | Left | Left | None |
| 450064 | 32.125 | 31.875 | 2.25 | Top | Radiator | Right | Right | None |
| 450080 | 21.75 | 24.625 | 3 | Top | Radiator | Right | Left | None |
| 450096 | 22.5625 | 22 | 4.1875 | None | Radiator | Right | Right | None |
| 450103 | 28.625 | 22.375 | 3.875 | Top | Radiator | Right | Left | None |
| 450112 | 31.5 | 17.6875 | 3.875 | Top | Radiator | Center | Left | None |
| 450117 | 34.5625 | 29.5 | 2.25 | Top | Radiator | Right | Right | None |
| 450138 | 21.25 | 17.6875 | 3.875 | Top | Radiator | Right | Left | None |
| 450143 | 28.625 | 21 | 4.1875 | None | Radiator | Right | Left / Grill Side | None |
| 450173 | 22.4375 | 22.25 | 4.125 | None | Radiator | Left | Left | None |
| 450178 | 28.375 | 27.9375 | 1.9375 | Top Center | Radiator | Left | Right | None |
| 450254 | 28.375 | 27.8125 | 1.9375 | Top Center | Radiator | Top Right | Bottom Right | None |
| 450298 | 18.5 | 20 | 4.125 | Top Left | Radiator | Top Left | Bottom Left | None |
| 450351 | 32.0625 | 24.75 | 4.1875 | None | Radiator | 2.25 | 2.25 | None |
| 450428 | 27.1875 | 24.1875 | 2.8125 | Top Center | Radiator | Top Left | Bottom Left | Bottom Not Avalable |
| 450439 | 40.75 | 18.4375 | 4.125 | Top Right | Radiator | Left | Left | NA |
| 450458 | 22.25 | 15.9375 | 4.125 | Center | Radiator | Center | Right | NA |
| 450469 | 23.625 | 17.4375 | 4.125 | Top Right | Radiator | Top Right | Bottom Left | NA |
| 450513 | 19.5 | 19.375 | 2 | 1.75 | Radiator | 2.25 | None | |
| 450553 | 41.375 | 35.5625 | 3.6875 | Center | Radiator | Left | Left | None |
| 450633 | 19.25 | 20 | 2 | Top Center | Radiator | Right | Right | None |
| 450731 | 23.75 | 12.5 | 4.125 | None | Radiator | Right | Left | None |
| 450758 | 42.5 | 16.8125 | 4.125 | None | Radiator | | | |
| 450786 | 27.25 | 24.8 | 2.81 | | Radiator | | | |
| 450833 | 26.125 | 27.75 | 3.6875 | Center | Radiator | Right | Right | Bottom |
| 450862 | 42.875 | 20.25 | 5 | Left | Radiator | Right | Right | None |
| 450934 | 45 | 31.8125 | 5.5 | None | Radiator | | | None |
| 450941 | 40.25 | 16.4375 | 3.25 | Center | Radiator | Left | Left | None |
| 451006 | 16.25 | 17.8125 | 2.8125 | Center | Radiator | Center | Left | None |
| 451028 | 19.5 | 18.3125 | 1.9375 | Center | Radiator | Left | Right | None |
| 451075 | 28 | 28.125 | 4.125 | None | Radiator | Left | Right | None |
| 451086 | 22.4375 | 21.6875 | 3.9375 | None | Radiator | Right | Left | None |
| 451092 | 22.4375 | 21.5625 | 4 | Right | Radiator | Right | Right | None |
| 451098 | 22.4375 | 24.75 | 3.75 | None | Radiator | Right | Right | None |
| 451099 | 19.875 | 24.75 | 3.75 | None | Radiator | Right | Left | None |
| 451100 | 43.25 | 17.8125 | 6.25 | None | Radiator | Right | Left | None |
| 451141 | 41.25 | 30.25 | 4.125 | None | Radiator | Right | Right | None |
| 451154 | 28.625 | 20.25 | 4.125 | None | Radiator | Right | Left | None |
| 451175 | 26.25 | 28.125 | 3.6875 | Left | Radiator | Right | Right | None |
| 451229 | 14.75 | 14.1875 | 1.1875 | Center | Radiator | Right | Right | None |
| 451299 | 23.75 | 22 | 2.813 | None | Radiator | Right | Left | None |