Komatsu Radiators – Browse Replacement Parts
Have you noticed your engine is overheating? If you suspect your equipment's radiator may be malfunctioning, it's important to have an experienced technician do an inspection and perform any necessary repairs. Our technicians here at Active Radiator have experience repairing a wide range of commercial equipment including the older models of Komatsu forklifts, dozers and more.
Sometimes a repair is not possible and the headaches in todays market where many Komatsu models now have lengthy backorders or are obsolete make for unnecessary stress in daily business operations. Active has a solution! We carry the most popular Komatsu replacement parts in stock at our facilities across the US. For example, we have the 450264 for your Komatsu D61 Dozer.
Experience the Active advantage today! We'll help get your equipment back in service quickly with minimal downtime. Find a location near you to buy a Komatsu radiator replacement.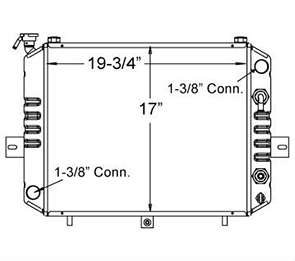 Komatsu FG25ST, FG30HT, Radiator
OE NUMBERS
410143
246048
SCSI246048
IR36048
546048
RP3EB04A5111
KO3EB04A5111
3EB04A5111
1010800000
C1010800000
8761212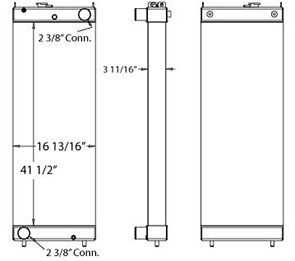 Komatsu PC300-8 Radiator
OE NUMBERS
2070375120
C0510308010
17710048010
212023
11341
11417848010
2080371110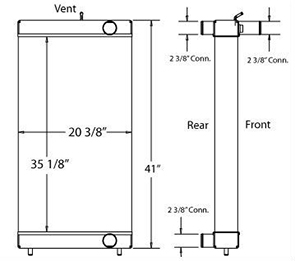 Komatsu Dump Truck HM350 Radiator
OE NUMBERS
17710731012
56B0321220
11458
View Product Browser With Pictures
---
| Part Number | Height | Width | Depth | Filler Neck | Product | Inlet | Outlet | Oil Cooler |
| --- | --- | --- | --- | --- | --- | --- | --- | --- |
| 450012 | 27.5 | 25 | 2.25 | Top | Radiator | Right | Right | None |
| 450031 | 34.5625 | 29.5 | 2.25 | Top | Radiator | Right | Left | None |
| 450041 | 32.5625 | 29.5 | 2.25 | Top | Radiator | Right | Left | None |
| 450065 | 29.5 | 12.5 | 4.125 | Top | Radiator | Right | Right | None |
| 450069 | 33.5 | 12.8125 | 4.5 | Top | Radiator | Left | Right | None |
| 450071 | 33.4375 | 18.6875 | 4.5 | Top | Radiator | Left | Right | None |
| 450076 | 32.625 | 13.75 | 3.688 | Top | Radiator | Top Left | Bottom Right | None |
| 450099 | 32.5625 | 29.5 | 2.25 | Top | Radiator | Right | Left | None |
| 450118 | 44.5 | 13.375 | 5 | None | Radiator | End | End | None |
| 450119 | 43 | 20.5 | 4.125 | Top | Radiator | Left | End | None |
| 450120 | 43 | 20.5 | 4.125 | Top | Radiator | Right | End | None |
| 450160 | 36.75 | 20.375 | 5 | Top Center | Radiator | Upper Right | Lower Left | None |
| 450182 | 37.375 | 11.75 | 3.6875 | Top Center | Radiator | Left | Lower Right | None |
| 450185 | 41.5 | 16.75 | 3.688 | Top Left Center | Radiator | Right | Left | None |
| 450188 | 27.5 | 13.5 | 3.6875 | Top | Radiator | Right | Right | None |
| 450191 | 40.563 | 16.375 | 3.6875 | Top center | Radiator | Top Right | Left and Right | None |
| 450192 | 40.563 | 16.375 | 3.6875 | Top Center | Radiator | Left and Right | Lower Left | None |
| 450197 | 27.688 | 11.5 | 3.688 | Top center | Radiator | Top Right | Bottom Right | None |
| 450202 | 46.625 | 18.5 | 4.125 | Top | Radiator | Right | Left | None |
| 450210 | 42.875 | 16.75 | 4.125 | None | Radiator | Top Right | Bottom | None |
| 450211 | 55.25 | 16.75 | 4.125 | None | Radiator | Top Right | Bottom Center | None |
| 450222 | 26.875 | 10.75 | 4.125 | Top | Radiator | Right | Right | None |
| 450224 | 39 | 17.75 | 4.125 | Top Right | Radiator | Top Right | Bottom Left | None |
| 450247 | 37.375 | 12.498 | 4.125 | Top Center | Radiator | Top Right | Top Left | None |
| 450249 | 46.5 | 18.5 | 4.125 | Top | Radiator | Top Right | Bottom Left | None |
| 450264 | 34.5 | 18.75 | 5 | Top Center | Radiator | Top Right | Bottom Left | None |
| 450267 | 37.375 | 12 | 4.125 | Top Center | Radiator | Top Right | Bottom Left | None |
| 450278 | 35.125 | 20.375 | 4.125 | None | Radiator | Top Right | Bottom Right | None |
| 450305 | 38.375 | 15 | 4.5 | Top Right | Radiator | Top Left | Bottom Right | None |
| 450321 | 50.375 | 12.498 | 5 | NONE | Radiator | TOP CENTER | BOTTOM CENTER | NONE |
| 450322 | 36.5 | 12.5 | 4.125 | Top Center | Radiator | Top Right | Bottom Left | None |
| 450323 | 33.4375 | 18.6875 | 4.5 | Top | Radiator | Left | Right | None |
| 450324 | 36.75 | 11.75 | 4.125 | Top | Radiator | Left | Right | None |
| 450325 | 52.5 | 21.9375 | 4.125 | Top Left | Radiator | Right | Left | None |
| 450331 | 40.5 | 20.5625 | 3.6875 | Top Center | Radiator | Top Right | Bottom Left | None |
| 450335 | 34.0625 | 21.25 | 2.8125 | None | Radiator | Top Right & Rear Left | Bottom Right | None |
| 450336 | 34.0625 | 21.25 | 2.8125 | None | Radiator | Top left | Bottom & Center right | None |
| 450358 | 29.5 | 8.0625 | 4.125 | Top Center | Radiator | TOP CENTER | Bottom Right | None |
| 450359 | 29.375 | 12.5 | 3.75 | Top Center | Radiator | Top Right | Bottom Right | None |
| 450381 | 38.6875 | 16.75 | 4.5 | Top Right | Radiator | Bottom Left | Left | None |
| 450391 | 30.125 | 27.25 | 4.125 | Top Left | Radiator | Top Left | Bottom Right | Bottom |
| 450403 | 37.4375 | 35.875 | 2.625 | Top Center | Radiator | Right | Left | NA |
| 450446 | 46.625 | 22.125 | 5 | Top Left | Radiator | Right | Bottom | NA |
| 450447 | 46.625 | 22.125 | 5 | Top Right | Radiator | Left | Bottom | NA |
| 450470 | 34.625 | 35.125 | 4.25 | Top Right | Radiator | Top Right | Bottom Right | Bottom |
| 450475 | 36.75 | 11.75 | 4.125 | Top | Radiator | Right | Left | None |
| 450495 | 40.563 | 16.375 | 3.6875 | Top center | Radiator | Top Right | Left and Right | None |
| 450496 | 40.563 | 16.375 | 3.6875 | Top Center | Radiator | Left and Right | Lower Left | None |
| 450518 | 17.75 | 15.4375 | 1.875 | | Radiator | Left | Right | None |
| 450533 | 39.375 | 12.5 | 4.125 | | Radiator | Right | Left | None |