Peterbilt Heavy Duty Truck & Bus Parts
Aftermarket Peterbilt Heavy-Duty Truck Parts
Active Radiator's aftermarket Peterbilt heavy-duty truck radiators and HDC charge oil coolers are specifically engineered to withstand the rigorous demands of the trucking industry, ensuring optimal performance and reliability. These innovative cooling solutions, including HDC condensers, are designed to provide maximum efficiency, effectively reducing the operating temperature of the engine and other critical components.
The use of high-quality materials and advanced manufacturing techniques guarantees durability, resulting in longer service life and lower maintenance costs for Peterbilt truck owners. Moreover, these HDC cooling products play an essential role in improving fuel economy, reducing emissions, and meeting stringent environmental standards. Active's selection of aftermarket Peterbilt's HDC radiators, charge oil coolers, and condensers offer a combination of efficiency, reliability, and sustainability, making them an ideal choice for modern heavy-duty trucking applications.
Aftermarket Peterbilt Radiators HDC
Heavy-duty truck radiators HDC are a crucial component in the performance and longevity of your Peterbilt vehicle. These radiators ensure optimal engine-temperature regulation and are designed to meet the demands of rigorous haulage conditions. Manufactured with state-of-the-art materials and engineered for maximum cooling efficiency, Active's aftermarket HDC radiators play a vital role in the prevention of engine overheating and subsequent breakdowns. With our aftermarket heavy-duty truck radiators, your Peterbilt vehicle will stay strong on those long hard-working days on the road. Trust us to safeguard your engine and optimize its performance with our aftermarket radiator options.
Charge Oil Coolers
When it comes to reliable and efficient transportation solutions, heavy-duty truck charge oil coolers play a critical role in ensuring optimal performance on the road for your Peterbilt truck. These innovative devices are specifically designed to maintain the oil temperature at safe levels, prevent overheating, and extend the longevity of the truck's engine. With the increasing demands on heavy-duty truck engines, the need for a reliable charge oil cooler has become essential to safeguard these powerhouse vehicles.
Active Radiator offers cutting-edge technology which ensures that the heat generated by the engine is efficiently dissipated. In turn, that helps maintain smooth operations and reduce overall wear and tear. Furthermore, the use of our aftermarket Peterbilt heavy-duty truck charge oil coolers not only elevates your truck's performance, but also contributes to improved fuel efficiency and reduced downtime, making them a must-have addition to any heavy-duty truck owner's list of essentials.
Aftermarket Oil Coolers
Heavy-duty truck oil coolers are essential in maintaining the optimal performance of powerful workhorses. As these trucks are designed to carry massive loads and withstand demanding conditions, it's vital to keep their engines cool and well-maintained to prevent any risk of overheating or premature wear. Active Radiator's oil coolers, specifically tailored for Peterbilt trucks, are engineered to efficiently dissipate heat generated by the engine during operation, ensuring a consistent temperature and promoting an extended lifespan of engine components.
In addition to reducing thermal stress, our high-quality oil coolers also improve fuel efficiency, further enhancing the overall performance and durability of Peterbilt heavy-duty trucks. The impressive benefits of our aftermarket oil coolers make them an indispensable part of any preventive maintenance routine for Peterbilt truck owners and operators seeking to achieve exceptional performance and reliability.
Peterbilt Condensers
Regular maintenance of your heavy equipment's cooling system is key to its longevity and performance. Common indicators that a condenser needs attention may include loud or abnormal noises, reduction in efficiency, and decreased coolant flow; fluids leaking past the normal amount of condensation are also indicative. When it's time to replace Peterbilt parts, we have an extensive inventory with popular models such as part number CON0050, which fits Peterbilt 387 2000-2007 units specifically. Our aftermarket Peterbilt condensers are top quality, and available when you need them most.
Getting Peterbilt Aftermarket Parts
Whether you are buying aftermarket Peterbilt truck parts for your heavy-duty truck, or need hard-to-find older model replacement parts, Active Radiator has you covered. We carry an impressive selection of newer and older model truck parts including radiators, oil coolers, charge oil coolers, and even bus isolator kits. Contact our team of experts today to order your parts. Need help finding the right part? No problem, give us a call and we can make sure you get the exact truck part you need. Already know what you need? Feel free to order Peterbilt parts online!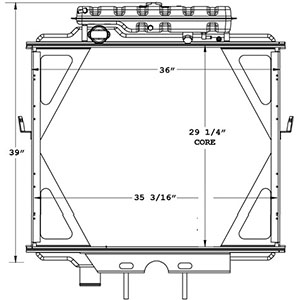 PART NUMBERS
650017
650018
650030
650032
770001
770003
770004
770005
770006
770008
770009
770011
770014
770015
770016
770017
770019
770021
770022
770023
770024
770025
770028
770029
770030
770031
770032
770033
770034
770035
770036
770037
770038
770039
770040
770041
770044
770045
770046
770047
770048
770049
770050
770051
770052
770053
770055
Browse Peterbilt Radiators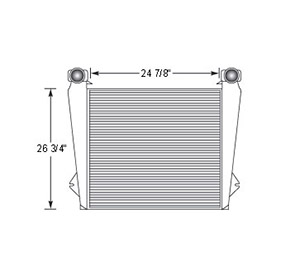 PART NUMBERS
280310
KEN16511
KEN16513
PET17701
PET17702
PET17703
PET17704
PET17705
PET17706
PET17707
PET17709
PET17710R
PET17711
PET17712
PET17714
PET17715
PET17716
PET17717
PET17718
PET17719
PET17720
PET17721
PET17722
PET17723
Browse Peterbilt Charge Air Coolers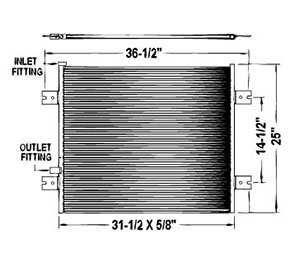 PART NUMBERS
CON0024
CON0025
CON0050
CON0051
CON0052
CON0053
CON0054
CON0055
CON0056
CON0057
CON0058
CON0059
CON0069
CON0083
Browse Peterbilt Condensers
View Product Browser With Pictures
---
| Part Number | Height | Width | Depth | Filler Neck | Product | Inlet | Outlet | Oil Cooler |
| --- | --- | --- | --- | --- | --- | --- | --- | --- |
| 271517 | 21.375 | 4 | 1.5 | None | Oil Cooler | | | |
| 280310 | 35 | 30.125 | 3.5 | None | Charge Air Cooler | | | |
| 650017 | 40.5 | 30.75 | 2 | None | Radiator | Left | Right | None |
| 650017PTWF | 40.5 | 30.75 | 2 | None | Radiator | Left | Right | None |
| 650018 | 43 | 31.3125 | 2.25 | None | Radiator | Left | Right | None |
| 650030 | 29.5 | 22.3125 | 1.9375 | None | Radiator | Right | Right | None |
| 650032 | 34.0625 | 39.5625 | 1.5 | None | Radiator | Left Center | Bottom Right | None |
| 650032PTWF | 34.0625 | 39.5625 | 1.5 | None | Radiator | Left Center | Bottom Right | None |
| 770001 | 33.5 | 27.4375 | 2.25 | None | Radiator | Left | Left | None |
| 770003 | 34.5 | 25.625 | 1.5 | None | Radiator | Left | Right | None |
| 770004 | 34.5 | 25.625 | 2.25 | None | Radiator | Left | Right | None |
| 770005 | 34.625 | 16 | 2.25 | None | Radiator | Left | Right | None |
| 770006 | 36.25 | 34.5 | 2.25 | None | Radiator | Left | Right | None |
| 770008 | 36.125 | 26.0625 | 2 | None | Radiator | Center | Left | None |
| 770009 | 32.25 | 23 | 2.25 | None | Radiator | Left | Right / Bottom | None |
| 770011 | 36.25 | 34.5 | 2.25 | None | Radiator | Left | Right | None |
| 770014 | 22.1875 | 38.5 | 2 | None | Radiator | Left | Right / Bottom | None |
| 770014PTWF | 22.1875 | 38.5 | 2 | None | Radiator | Left | Right / Bottom | None |
| 770015 | 34 | 39.4375 | 2 | None | Radiator | Left | Right / Bottom | None |
| 770015PTWF | 34 | 39.4375 | 2 | None | Radiator | Left | Right / Bottom | None |
| 770016 | 36.9375 | 39.4375 | 2 | None | Radiator | Left | Right / Bottom | None |
| 770016PTWF | 36.9375 | 39.4375 | 2 | None | Radiator | Left | Right / Bottom | None |
| 770017 | 42.875 | 39.4375 | 2 | None | Radiator | Left | Right / Bottom | None |
| 770017PTWF | 42.875 | 39.4375 | 2 | None | Radiator | Left | Right / Bottom | None |
| 770019 | 36.25 | 34.5 | 2.25 | None | Radiator | Left | Right | None |
| 770021 | 36 | 36.75 | 2 | None | Radiator | Left | Right / Bottom | None |
| 770021PTWF | 36 | 36.75 | 2 | None | Radiator | Left | Right / Bottom | None |
| 770022 | 40.5 | 30.3125 | 2.25 | None | Radiator | Top Left | Bottom Right | None |
| 770023 | 36.5 | 29.6875 | 2.25 | None | Radiator | Right / Top | Left / Bottom | None |
| 770024 | 36.5 | 29.6875 | 2.25 | None | Radiator | Right / Top | Left / Bottom | None |
| 770025 | 22 | 25.125 | 1.9375 | None | Radiator | Right | Right | Bottom |
| 770028 | 36.25 | 34.5 | 2.25 | None | Radiator | Left | Right | None |
| 770029 | 36.25 | 34.5 | 2.25 | None | Radiator | Left | Left Center | None |
| 770031 | 36.25 | 34.5 | 2.25 | None | Radiator | | | |
| 770032 | 36.25 | 34.5 | 1.5 | None | Radiator | Left | Bottom Left | None |
| 770033 | 36.25 | 34.5 | 2.25 | None | Radiator | LEFT ANGLED | Right 90 | None |
| 770034 | 40.5 | 30.3125 | 2.25 | None | Radiator | Top Left | Bottom Right | None |
| 770035 | 36.25 | 34.5 | 1.5 | None | Radiator | Left | Bottom Right | None |
| 770036 | 34.125 | 34.5 | 2.25 | None | Radiator | Left | Left | None |
| 770037 | 36.25 | 34.5 | 2.25 | None | Radiator | Left | Left | None |
| 770038 | 30.5 | 39.4375 | 2 | None | Radiator | Left | Right / Bottom | None |
| 770038PTWF | 30.5 | 39.4375 | 2 | None | Radiator | Left | Right / Bottom | None |
| 770039 | 34.125 | 34.5 | 2.25 | None | Radiator | Left | Left | None |
| 770040 | 36.25 | 34.5 | 2.25 | None | Radiator | Left | Left | None |
| 770041 | 26.6875 | 39.4375 | 2 | None | Radiator | Left | Right | None |
| 770041PTWF | 26.6875 | 39.4375 | 2 | None | Radiator | Left | Right | None |
| 770044 | 36.25 | 34.5 | 2.25 | None | Radiator | Left | Right | None |
| 770045 | 36.25 | 34.5 | 1.5 | None | Radiator | Left | Bottom Right | None |
| 770046 | 36.25 | 34.5 | 2.25 | None | Radiator | Left | Right | None |
| 770047 | 29.25 | 34.5 | 2.25 | None | Radiator | Left | Right | None |