Hitachi Radiators – Browse Replacement Parts
Active can help you solve your radiator problems! How can you tell if the radiator is repairable of if you need a new one? Major coolant leaks are a common indicator that a new radiator is your best option. Active is here to help. We carry both new and older models of Hitachi radiators to suite your needs for both compact and heavy construction equipment.
While using your equipment you can have peace of mind that should you need repair, or replacement we can help you through it! Active Radiator has the most popular Hitachi replacement parts in stock across the U.S. The Hitachi Excavator Radiator is a great example of the products we can provide! It is an all-aluminum designed as an exact fit for the EX300-5, EX370-5M and EX385USR.
Experience the Active advantage today! We'll help get your equipment back in service quickly with minimal downtime. Find a location near you to buy a Hitachi radiator replacement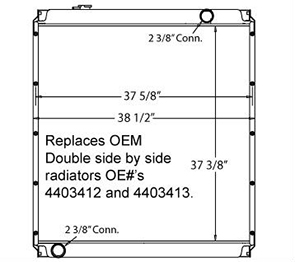 Hitachi Excavator Radiator
OE NUMBERS
4368117
4403412
4403413
13815801020A
6080000174C3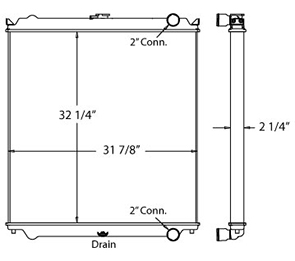 Hitachi / Case / Link-Belt Excavator Radiator
OE NUMBERS
BT5445
212045
4448338
2AX15
DBX1900009
4448104
KRH1519
LN00084
LN00085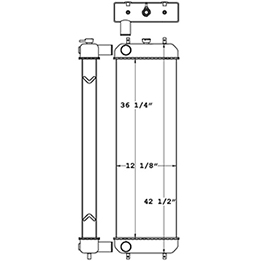 Hitachi 200-3 Radiator
OE NUMBERS
451036PT
4650352
4693832
KNH11000
LN003280
4625641
View Product Browser With Pictures
---
| Part Number | Height | Width | Depth | Filler Neck | Product | Inlet | Outlet | Oil Cooler |
| --- | --- | --- | --- | --- | --- | --- | --- | --- |
| 450040 | 37.3125 | 37.375 | 2.25 | Top | Radiator | Right | Left | None |
| 450064 | 32.125 | 31.875 | 2.25 | Top | Radiator | Right | Right | None |
| 450402 | 40.3125 | 16.625 | 4.125 | Top Left | Radiator | Left | Left | NA |
| 450570 | 40.5 | 22.25 | 4.125 | Top Left of Center | Radiator | Top Right | Bottom Right | None |
| 450653 | 40 | 26.75 | 3.25 | Center | Radiator | Left | Left | None |
| 450708 | 54.5 | 16.926 | 5 | | Radiator | | | |
| 450758 | 42.5 | 16.8125 | 4.125 | None | Radiator | | | |
| 450785 | 40.25 | 12.37 | 3.25 | Center | Radiator | Left | Left | None |
| 450820 | 40.25 | 26.6875 | 3.25 | Center | Radiator | Left | Left | None |
| 450832 | 30.3125 | 31.6875 | 1.9375 | Center | Radiator | Left | Right | None |
| 450941 | 40.25 | 16.4375 | 3.25 | Center | Radiator | Left | Left | None |
| 451036 | 36.25 | 12.125 | 2.9375 | Center | Radiator | Left | Right | None |
| 451042 | 32.25 | 31.8125 | 2.25 | Center | Radiator | Left | Right | None |
| 451043 | 36.25 | 31.8125 | 2.25 | Center | Radiator | Right | Right | None |
| 451044 | 36.25 | 31.8125 | 2.25 | Center | Radiator | Left | Right | None |
| 451045 | 36.25 | 31.8125 | 2.25 | Center | Radiator | Left | Left | None |
| 451046 | 30.3125 | 25.6875 | 2.25 | Center | Radiator | Left | Right | None |
| 451047 | 30.3125 | 25.6875 | 2.25 | Center | Radiator | Right | Left | None |
| 451071 | 42.625 | 14.9375 | 4.125 | None | Radiator | Dual Top | Dual Bottom | None |
| 451072 | 42.625 | 14.9375 | 4.125 | Left | Radiator | Right | Right | None |
| 451130 | 29.5 | 25.1875 | 3.6875 | Center | Radiator | Left Center | Right | Bottom |
| 451171 | 30.375 | 27.125 | 5 | Center | Radiator | | | Bottom |
| 451244 | 40.1875 | 16.4375 | 3.25 | None | Radiator | Left | Right | None |
| 451487 | 32.25 | 12.375 | 3.25 | Center | Radiator | Left | Left | None |
| 451529 | 17.75 | 16.25 | 1.9375 | Right | Radiator | Left | 90 Degree Right | None |
| 451612 | 28.75 | 12.375 | 3.5 | Center | Radiator | Left | Left | None |
| 451618 | 21.3125 | 12.375 | 3.25 | Center | Radiator | Left | Right | None |
| 451665 | 33.375 | 28.25 | 3.25 | Center | Radiator | Right | Left | None |
| 451771 | 34.625 | 32.1875 | 2.375 | Center | Radiator | Right | Left | None |
| 451785 | 40.1875 | 16.4375 | 3.25 | Center | Radiator | Left | Right | None |